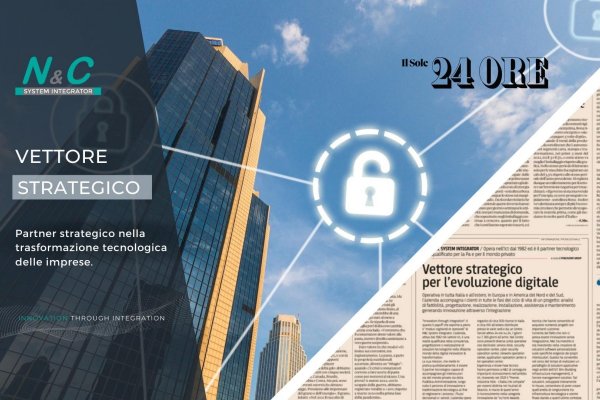 NEWS
N&C per Il Sole 24 Ore
Vettore strategico per l'evoluzione digitale
"Innovation through integration": è questo il payoff che esprime a pieno il "modus cogitandi et operandi" di N&C System Integrator. L'azienda, che opera dal 1982 nel settore Ict, è una realtà qualificata nella consulenza, progettazione e realizzazione di soluzioni tecnologiche nello sfidante mondo della digital innovation & transformation.

La sua mission, che mette in pratica quotidianamente, è essere il partner tecnologico capace di accompagnare gli interlocutori sia del mondo privato sia della Pubblica Amministrazione, lungo tutto il percorso di innovazione e trasformazione tecnologica al fine di migliorarne i processi, i flussi decisionali e i servizi. L'azienda opera su tutto il territorio nazionale e conta anche numerose sedi all'estero, dislocate in Francia, Brasile, Argentina, Polonia, Serbia, Stati Uniti. Data center & Cloud, unified communication, multimedia, software, application services, networking, managed services sono le aree di business in cui N&C è vettore strategico per quei clienti che hanno abbracciato o hanno intenzione di abbracciare la sfida dell'evoluzione digitale.

N&C li accompagna in tutte le fasi del ciclo di vita di un progetto: analisi di fattibilità, progettazione, realizzazione, installazione, assistenza e mantenimento.
Un'operatività ad ampio e spettro resa possibile e assicurata da un organico di circa 500 risorse in Italia e circa 100 all'estero distribuite presso le varie sedi e da un Centro Servizi attivo 24 ore su 24, 7 giorni su 7, 365 giorni all'anno. Nel Centro sono presenti diverse unità operative così declinate: service desk, security operation center, cyber security operation center, network operation center, application operation center e Iot operation center.

Esperienza e know-how tecnico che hanno permesso ad N&C di conseguire importanti riconoscimenti nell'ambito ICT, ricevendo nel 2021 il "Premio Industria Felix - L'Italia che compete" per essersi distinta nei risultati di bilancio. A marzo di quest'anno il riconoscimento nella categoria Innovazione de "Le Fonti Awards 2022" per l'impegno verso i processi di evoluzione del mercato digitale.
Lo stesso impegno ed esperienza tecnica che hanno consentito di acquisire numerosi progetti per migliorare la trasmissione di informazioni digitali con importanti customers.
Convinta del fatto che non ci possa essere innovazione senza integrazione, N&C ha investito e sta investendo nella creazione di soluzioni software personalizzate sulle specifiche esigenze dei propri interlocutori. Questo ha consentito nel corso del tempo di realizzare un portafoglio di soluzioni applicative negli ambiti dell'IoT, Bim (Building infrastructure management), It Service management solution. Tali soluzioni, sviluppate interamente in-house, consentono di poter creare quell'anello di congiunzione tra infrastruttura tecnologica ed utente finale dando a quest'ultimo contezza del vero valore della trasformazione digitale.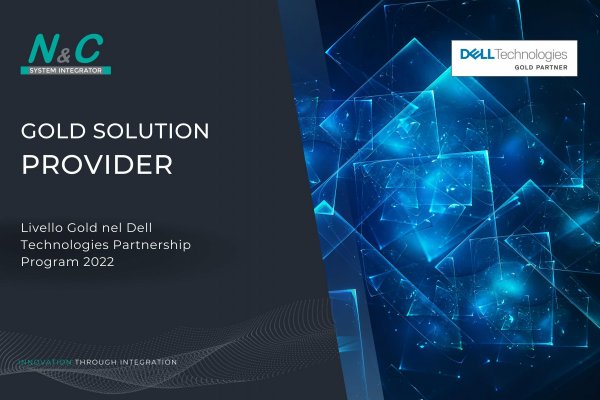 NEWS
N&C is a Gold Solution provider
N&C reaches Gold status in Dell Technologies Partnership Program 2022
Thanks to our commitment to the Dell Technologies Partner Program, N&C has been officially recognized as a Gold Partner as a certified Solution Provider.

A qualification designed for experienced partners in design and implementation with Dell, one of the world's leading multinational for advanced cloud and computing solutions.

N&C Achieves Excellence Requirements in Different Product Categories and Solutions in its Portfolio of Expertise, such as Cloud, Server, and Storage.

This partnership between Dell and N&C confirms the company's goal by demonstrating its support as a solid, innovative provider.

Through our knowledge and technical expertise, together with Dell Technologies, we will be able to provide solutions to the highest standards to our customers, accompanying them through the digital transformation process.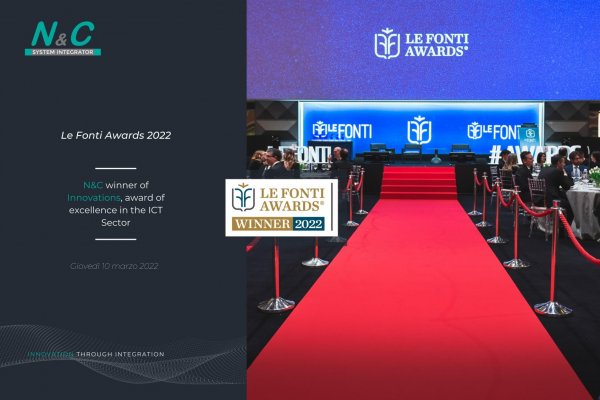 NEWS
N&C X Le Fonti Awards 2022
N&C vince il "Premio Innovazione nel Settore ICT"
Lo scorso 10 marzo si è tenuta la XII edizione de Le Fonti Awards, comunità di business riconosciuta a livello internazionale. La premier si è svolta nella location esclusiva di Milano Palazzo Mezzanotte, sede di Borsa Italiana e trasmessa in diretta su Le Fonti TV.
N&C, dopo essersi posizionata tra le aziende finaliste, è stata premiata nella categoria "Innovazione nel settore ICT" per l'impegno verso i processi di evoluzione del mercato digitale.
Fondata a Veglie (LE) nel 1982 da Luigi Coppola, Antonio Nestola e Renato Nestola, negli ultimi 40 anni ha avuto una continua crescita fino ad estendere la sua presenza sul territorio internazionale.

Hanno preso parte alla premiazione i figli dei soci fondatori Paolo, Davide e Federico. Insieme agli altri componenti della famiglia, portano avanti con entusiasmo e passione la crescita e la conduzione dell'azienda.

Il riconoscimento assegnato evidenzia la forza e la capacità imprenditoriale di innovare costantemente. Questi valori ne hanno determinato una realtà consolidata, resa possibile grazie a tutti i collaboratori e i team di N&C, che lavorano con professionalità creando soluzioni e servizi al passo con il mercato.

Un ringraziamento a tutti i collaboratori della realtà N&C per questi importanti traguardi.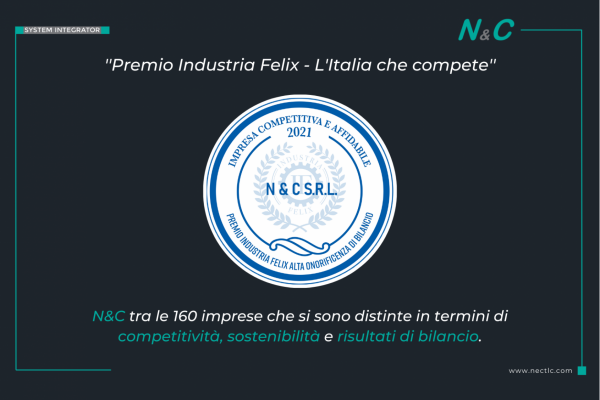 NEWS
N&C X Premio Industria Felix
N&C e L'Italia che compete
C'è un'Italia che riparte e compete, con imprese performanti a livello gestionale, affidabili finanziariamente e talvolta anche sostenibili.

Lo scorso 25 novembre, nella splendida cornice dell'Aula Magna dell'Università Luiss Guido Carli a Roma, è andata in scena la cerimonia di consegna dell'Alta onorificenza di bilancio del 'Premio Industria Felix – L'Italia che compete'.

Ad essere premiate sono state 160 società di capitali con sede legale in Italia che si sono distinte tramite i risultati di bilancio. Tra le imprese che hanno conseguito questo prestigioso premio era presente anche N&C.

Ricevendo questo riconoscimento la nostra azienda ha dimostrato di aver messo a disposizione la propria abilità nel costruire un'attività capace di dare numerosi frutti in termini di benessere sociale e di progresso economico, oltre ad essersi distinta per l'inventiva, l'impegno e la determinazione.

Il 'Premio Industria Felix' è stato assegnato sulla base di criteri oggettivi e tiene conto di un incontrovertibile algoritmo di competitività, del Cerved Group Score Impact (l'indicatore di affidabilità finanziaria di una delle più importanti agenzie di rating in Europa) e in alcuni casi del bilancio/report di sostenibilità o della Dichiarazione non finanziaria per le aziende che ne sono in possesso.

L'evento è stato organizzato in collaborazione con Cerved, Università Luiss Guido Carli, Associazione culturale Industria Felix, con i patrocini di Confindustria e Simest, con le media partnership de Il Sole 24 Ore e Askanews, con la partnership istituzionale di Regione Puglia, con la partnership di Banca Mediolanum, Mediolanum Private Banking, Grant Thornton, Sustainable Development, Egea Commerciale.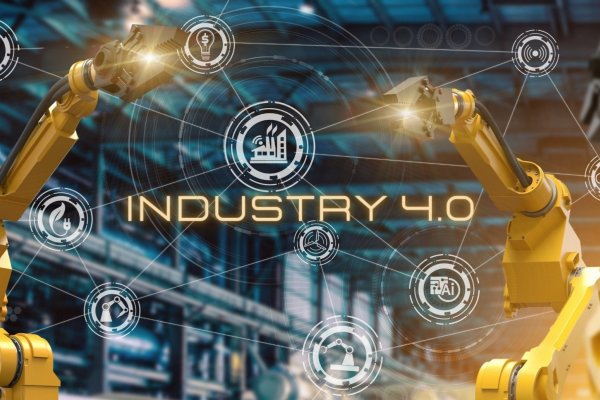 NEWS
Industry 4.0
Why invest in this type of industry?
The importance of digital in recent years

Companies have no doubts: to achieve an adequate level of efficiency and productivity and be able to be competitive you cannot ignore digital. If we then add to these objectives that represented by the ability to adapt to events, which became urgent in 2020 with the pandemic, the strategic nature of digital is even more evident.

Between 2020 and 2021 we invested in digital not only to ensure business continuity, but also to continue the digitalization process started in previous years that today is becoming increasingly urgent. While the analysis of the impact of the pandemic on investments in digital technologies shows a block or postponement of more tactical investments, on the other hand it measures an acceleration in the adoption of all the tools that can help companies react.

Industry 4.0, that is, the digitalization of the production process, and the technologies connected to it have been fundamental to ensure the functioning of activities during crises and will be even more so to enable new more competitive and evolved production scenarios.

Italian companies know they must accelerate the path towards Industry 4.0, especially if they want to maintain the resilience of the production system and at the same time increase its productivity through the native inclusion of flexibility and ability to adapt to events.

The risks of Industry 4.0

Investing in Industry 4.0 means digitizing the production process and adopting a smart factory model supported by the convergence of multiple technologies, but it can also expose the company to Cyber-attacks.
In fact, organizations that do not adequately protect their OT (Operational Technology) environment are often unaware that they have vulnerabilities and therefore are potentially exposed to cyber-attacks of all kinds.

The Transaction Plan 4.0

On these and other issues that make up the industry 4.0 model, companies expect to be able to carry out new and important investments, thanks also to the support of the Transition 4.0 plan, which aims to compensate, at least in part, the uncertainty of the post-pandemic macroeconomic framework, supporting companies that invest to innovate and digitize their production processes.

To make an appointment, a call or a consultation with one of our experts or to get more information about our company, contact us here: Tel: 0832.970190 / E-Mail: marketing@nectlc.com - nec@nectlc.com

INNOVATION THROUGH INTEGRATION!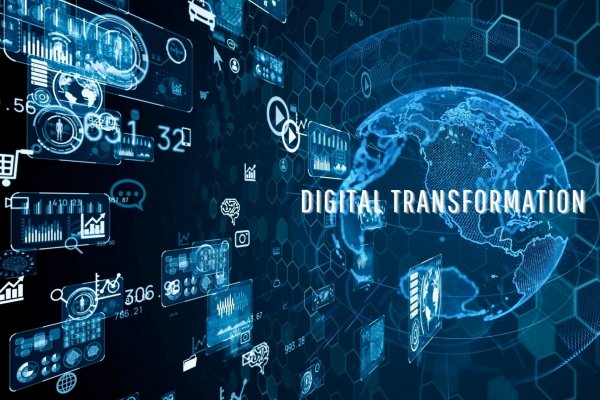 NEWS
Trasformazione Digitale
I vantaggi per le aziende
La trasformazione digitale è l'integrazione della tecnologia digitale in tutte le aree di un'azienda e si traduce in cambiamenti fondamentali nel modo in cui opera un'organizzazione stessa. Le imprese utilizzano questo processo per rimodellare le proprie attività in modo che siano più efficienti e più redditizie.

L'accelerazione del mondo digitale richiede che le organizzazioni si adattino, motivo per cui l'88% delle aziende sta lavorando per una concreta trasformazione digitale. La necessità di ricorrere a questa implementazione automatizzata dei servizi non può essere sottovalutata, poiché senza adattarsi al mercato digitale le aziende subiranno significative battute d'arresto nella crescita e nei profitti.

Che cos'è la trasformazione digitale?

Il concetto di trasformazione digitale è l'uso delle tecnologie digitali in modo strategico per semplificare e accelerare le operazioni, dal modello di business ai processi interni. Digitalizzando la tua azienda, il tuo obiettivo è ottenere i vantaggi della trasformazione digitale, che può includere l'aumento delle entrate, il miglioramento dell'esperienza del cliente e l'acquisizione di un vantaggio competitivo.

La trasformazione digitale è un'area vasta, motivo per cui diversi fattori determinano il tuo grado di digitalizzazione, tra cui:
• Tecnologia: l'influenza della tecnologia deriva dai suoi potenziali benefici sulle tue operazioni, nonché dal livello di difficoltà della sua integrazione.
• Domanda: l'effetto della domanda proviene dai clienti, che si aspettano un'esperienza di acquisto semplice e intuitiva.
• Comportamento: l'impatto del comportamento viene dai consumatori, che hanno delle aspettative quando fanno acquisti con te.

Ascoltando la domanda dei tuoi clienti, osservando il loro comportamento e studiando la tecnologia disponibile, puoi gettare le basi per una trasformazione digitale.

In che modo la digitalizzazione può influire sulla tua attività?

L'impatto della trasformazione digitale sulla tua azienda varia, ma spesso porterà ai seguenti vantaggi della digitalizzazione:
• Aumento delle entrate
• Costi operativi ridotti
• Maggiore soddisfazione del cliente
• Frammentazione ridotta
• Operazioni ottimizzate

Tutti i vantaggi della digitalizzazione di cui sopra sono preziosi, in quanto possono rafforzare la presa della tua azienda sul mercato designato e continuare la tua crescita.

Per fissare un appuntamento, una call o una consulenza con uno dei nostri esperti o per avere maggiori informazioni sulla nostra azienda, contattateci qui: Tel: 0832.970190 / E-Mail: marketing@nectlc.com - nec@nectlc.com

INNOVATION THROUGH INTEGRATION!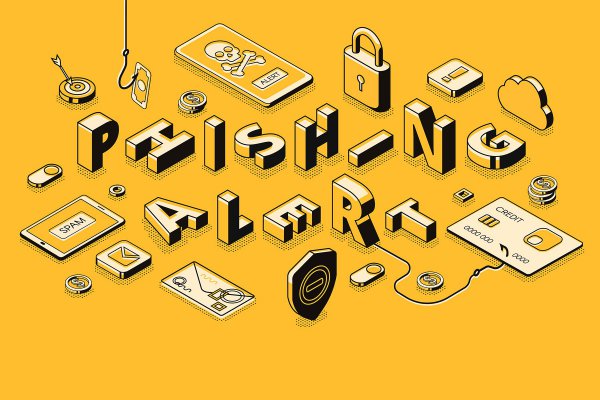 NEWS
Recognizing phishing emails
10 things to check
It's critical to take proactive steps to protect yourself and protect the security of your business.

Having a computer up to date and with the antivirus working can make a big difference on reducing the risks of infection in your company.

But becoming adept at recognizing phishing emails is a step forward in protecting your business.

Below is a quick "Top 10" of the operations to do to recognize a phishing email:

1. Don't trust the display name as the sender
Just because it says it's from a person you know doesn't mean it's authentic. Check that the email address is the real one of the senders.

2. Watch but do not click
Hover over all parts of the email without clicking, if the description displayed is different from the link, do not click and ask for help.

3. Check for spelling mistakes
The senders of this type of email are not very attentive to the correct spelling in the various languages, unlike those who send an authentic email.

4. Watch out for the initial greetings
Is the subject of the greeting's generic as "dear customer" or is it specific as "Dear Dr Mario Rossi"?

5. Does the email you received ask for personal information?
Authentic and correct companies generally do not ask for personal information via email, unless there has been a previous telephone contact.

6. Attention to urgencies
Some of these emails can leverage the emergency factor, for example "the boss wants 1ml of € on his account by this morning" or "you have to make a deposit of € 100 to collect the prize".

7. Check the signature of emails
Most authentic senders include in their emails a complete signature of their phone number and address. Check with a phone call if you are not sure.

8. Beware of attachments
Often the names of malicious attachments are deliberately very long to hide the true extension. And they can present themselves with Excel or Word or Pdf icons calling up for example invoices, fines or refunds.

9. Do not believe everything you see
If something in the email seems slightly abnormal it is better to be sure than sorry. If in doubt, contact your company's security center.

10. When you have a doubt
Do not have doubts better to write to the security center of your company than to expose the company to a risk.

To make an appointment, a call or a consultation with one of our experts or to get more information about our company, contact us here: Tel: 0832.970190 / E-Mail: marketing@nectlc.com - nec@nectlc.com

INNOVATION THROUGH INTEGRATION!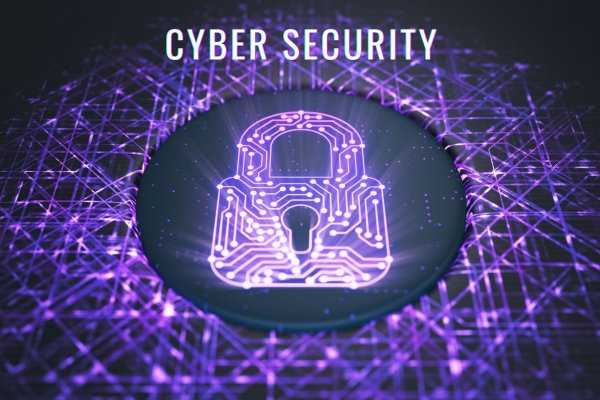 NEWS
Cyber Security
Post-pandemic situation: here's what you need to keep in mind
The main trends in the analysis of consumer behaviour

Respondents to a survey conducted by IBM Security said they had created an average of 15 new online accounts, and 82% of them admitted to reusing the same credentials for multiple profiles at least once. This means that many of the accounts created during the pandemic are based on already used emails and passwords, which may have already been exposed to data breaches in recent years.

The study also shed light on a variety of respondents' behaviours and specifically the following phenomena emerged:
• The 5-minute rule: 59% of survey respondents expect to have to take less than 5 minutes to create a new digital account
• At most three attempts: globally, all respondents admitted that they would attempt 3-4 logins before resetting their password
• Increased engagement in storage: 44% of respondents store information on their accounts, while 32% write it on paper
• Multi-factor authentication: if password reuse is a growing problem, adding an additional verification factor for high-risk transactions can help limit the risks of account compromise

Digital and healthcare, what happened during the pandemic

During the pandemic, online channels have become essential to manage the massive demand for vaccines, tests and treatments for Covid-19, stimulating a progressive adoption of digital by the health system and eliminating barriers to entry for new users. With the progressive transition to telemedicine, it will be increasingly important that the safety protocols of healthcare facilities are designed to address this change.

Digital credentials

The concept of a digital health card, or so-called vaccination passports, represents a first example of a use case for digital credentials that use technology to verify specific aspects related to our identity.
The introduction of a digital identity certificate during the pandemic could help stimulate a wider adoption of modern digital identity technologies, aimed at replacing traditional identification systems.

What companies are doing

In light of the change in consumer behaviours IBM Security has made some suggestions regarding the security solutions that companies should adopt:
• Zero Trust approach: companies should take an approach based on the assumption that the user's identity may already be compromised
• New Identity Access Management (IAM) solutions for consumers: companies that want to use digital channels to engage their customers must adopt a seamless authentication process
• Data protection and privacy: businesses must ensure that they adopt strict data security controls to prevent unauthorized access
• Testing security: companies should consider specific testing to ensure that the security strategies and technologies they have previously relied on still hold up in the new situation

To make an appointment, a call or a consultation with one of our experts or to get more information about our company, contact us here: Tel: 0832.970190 / E-Mail: marketing@nectlc.com - nec@nectlc.com

INNOVATION THROUGH INTEGRATION!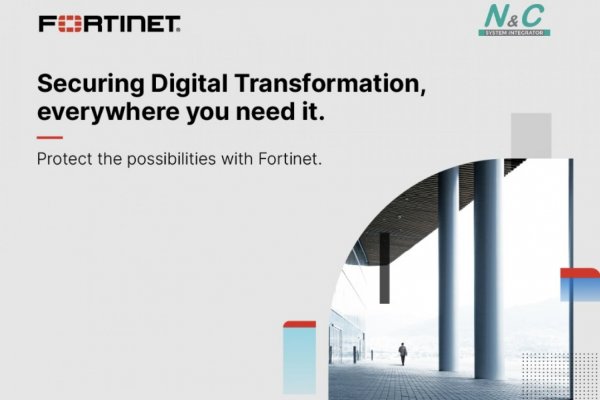 NEWS
Fortinet
Adaptive Cloud Security Campaign at a Glance
What Is the Campaign About?

This campaign educates customers on how they can run their applications on any cloud to support any initiative with Fortinet Adaptive Cloud Security. The Fortinet cloud portfolio helps safeguard apps and data in the cloud with a comprehensive security solution that reduces the complexity of managing multiple solutions and vendors with the Fortinet Security Fabric.

Why Should I Use This Campaign?

Worldwide end-user spending on public cloud services is forecast to grow 23.1% in 2021 to total $332.3 billion, up from $270 billion in 2020, according to the latest forecast from Gartner, Inc.
Use this campaign to grow your trusted relationship with customers by helping them define their strategy and roadmap. Fortinet is the simplest way to land and expand your footprint with your customers who are looking for security that monitors their mission-critical applications and data, across all clouds (hybrid and on-premises). Fortinet Adaptive Cloud Security is a perfect, easily deployed answer.

Who Is This Campaign For?

Business decision-makers: CISO, VP of IT Security, VP of Public Cloud
Technical buyers: Security Architects, Enterprise IT Architects, SOC Management, Cloud Architects, DevOps Team
Segments: Enterprises, mid-sized organizations, public sector, service providers

How To Build the Campaign

1. Decide if you want to promote a single asset or do a multitouch nurture campaign
• For a multitouch nurture campaign, we recommend sending each promotional email 2 weeks apart.
2. Select the asset(s) you want to promote in your campaign
3. Download the Adaptive Cloud Security Campaigns in a Box
• From the zip folder, use the co-brandable emails in the email package folders to promote the asset.
• Add your logo to the upper right corner of the HTML and update the CTA at the bottom with your landing page link to track the number of downloads.
• Build the right target list using the recommended personas and company size above.

How To Ensure Success

1. Get Sales trained-up on the solution
• NSE Education Pathway: Adaptive Cloud Security
2. Run an email campaign using the co-brandable email package
3. Close more deals
• Partner Sell Sheet: Prepare for sales calls with this 2-page at-a-glance that covers the market opportunity, target personas, business challenges, discovery questions, and overcoming objections.
• Customer Presentation: Use this presentation for customers and prospects.

To make an appointment, a call or a consultation with one of our experts or to get more information about our company, contact us here: Tel: 0832.970190 / E-Mail: marketing@nectlc.com - nec@nectlc.com

INNOVATION THROUGH INTEGRATION!